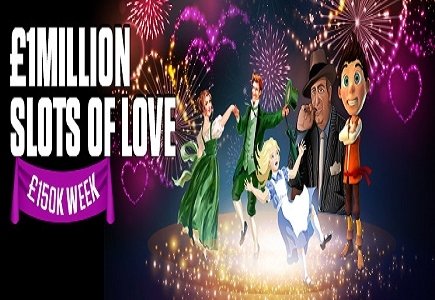 Ahhh yes, it is February and what is the first thing on every lady's mind? Well it is Valentine's Day of course! Who would have ever thought that Ladbrokes Bingo was such a romantic devil in recognizing this hot lover's day by celebrating it in a big way.
Right of the bat this site gets props because they are on top if their game folks. Ladbrokes must be super pumped because they have already announced a massive Valentine's extravaganza before February first even began. That is impressive since the biggest pet peeve of all is promos that are still up from the previous month a good week into the new month right?
Alright so let's down to the heart (pun intended) of the matter the big Promo! Hang on to your sweetheart because this will blow you away………
It is the £1 Million Slots of Love Prize Draw. Love is in the air……..can you feel it ladies and gents? Since February is the month of romance might as well get this love story off straight away.
Here is the low down:
The first 2 draws have a massive £150,000 prize pool. There are 3 qualification games for each draw which participants get 1 entry into the prize draw for every £10 spent.
The promotion starts from 00:00, 1st February 2016 until 23:59, 28th February 2016.
Players will be awarded 2 entries into the draw for every £10 spent on this week's Bonus Slot.
Draw 1:
Starts 1st – 4th Feb – Draw date – 5th Feb
Slots – Fireworkz Blitz, Clover Rollover and Rich Treats
Bonus Slot: Bounty of the Beanstalk
Prize Pool – £75,000
Draw 2:
Starts 5th – 7th Feb – Draw Date – 8th Feb
Slots – Adventures in Wonderland, Mafia Millions, Fruity Burst
Bonus Slot: Bounty of the Beanstalk
Prize Pool – £75,000
More Draws for the remainder of the month will be announced.