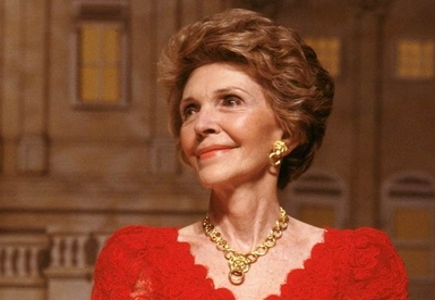 Recently scouring the internet for unique Bingo cards I came across 'First Ladies' and thought it a perfect party game during the heightened political campaign. Among the 24 spaces on the 75 Ball Bingo card, the one name stood out – Nancy Reagan. Although I always knew it, it was today that I realized she was so much more than a name on a card.
The former First Lady Nancy Reagan died at home in California at the age of 94 today. Mrs Reagan resided in Bel Air, Los Angeles and passed March 6th, 2016 of congestive heart failure.
She was married 52 years to Ronald Reagan who has been described as the US presidency's greatest love affair in the oval office from 1981 – 1989.
Mrs. Reagan has been featured as one of the most influential first ladies in US history. Although she did face tremendous criticism after an expensive renovation of the White House, she persevered the publics critical eye and became a much-loved figure.
A rep Joanne Drake, a spokeswoman with the Reagan Library said in a statement:
"Mrs. Reagan will be buried at the Ronald Reagan Presidential Library in Simi Valley, California, next to her husband, Ronald Wilson Reagan, who died on June 5, 2004."
'"Prior to the funeral service, there will be an opportunity for members of the public to pay their respects at the Library.'