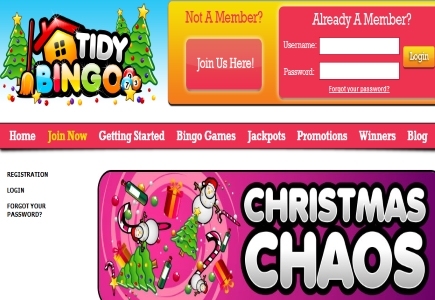 Christmas is finally upon us, and what a month it's been for festive promotions! However, it's not over yet and at Tidy Bingo the team are having a big party this Tuesday in the exclusive Tidy Cupboard with fun and games from 7through to 10pm!
Tuesday night's in the Cupboard are always exciting. The fun starts with the Tidy and the Troops game at 7pm and that will still play during the Christmas Chaos session, this Tuesday 22nd December. Top up your wine and don your Santa Hat it's time for some festive fun! Here's the schedule:
7pm to 8pm – Snog me Santa
This fun festive chat game will be paying out 1,000lps on every game! Just hand over your Santa and Mistletoe numbers wait for them to be called and shout Snog me Santa for the chance to win!
8pm to 9pm – Mistletoe Mayhem
The fun continues at 8p with the Mistletoe Mayhem game. For this game you'll be allocated two numbers and Tidy Bingo will be giving away tangible gifts throughout the evening. Look out for the number the game is called on because if it's yours, you could be a winner!
9pm to 10pm – Happy Xmas Tidyers
At 9pm it's possible that Mistletoe Mayhem will roll on as there are many prizes to be given away, but there's also a brand new chat game and the chance to win some Love2Shop vouchers. Look out for numbers 12 and 25 because if you're the first to type Happy Xmas Tidyers you win 1,000lps! There's also a four Love2Shop vouchers to be given away within the hour to players who call bingo on the nominated games!
What a treat, and what better way to get you in the festive mood with Tidy Bingo!