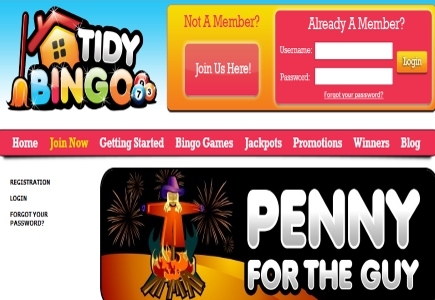 There's something very nostalgic about the idea of kids going round the streets calling out, 'Penny for the Guy!' But there's nothing old fashioned about Tidy Bingo's November promotion of the same name, with its state-of-the-art music system prize that'll convert your old records to formats you can play on the latest technology.
Although the bangs of 5th November are fading into memory now – and the dog's getting over its nervous breakdown – this Guy Fawkes-themed contest runs all month. It's not too late to join now, and new players have every chance of taking the top prize of this super-simple challenge.
This is one of Tidy Bingo's popular leader-board challenges. To participate you simply play the games you enjoy at the site. You don't even have to keep a track of your scores – it's all done for you – and at the end of the month the player with the most points takes the prize.
Points are awarded to Tidy players throughout November for completing the following tasks:
Complete a bingo win on the Fireworks pattern for five points.
Win a full house in either 75- or 90-ball bingo on the number 5 for 10 points.
Win that number 5 full house in the exclusive Tidy Cupboard room for a 20 point score.
Wager £20 on the Fireworks Frenzy slot in one day for 10 points.
Chat game wins in the Tidy Cupboard on Tuesday and Friday evenings are worth a point (with the exception of the Bingopoly game).
The Tidy Cupboard opens on Tuesday and Friday evenings from 7pm to 11pm for those chat game wins. There are also two (generally unhosted) Tidy Cupboard sessions on Wednesdays from 12pm to 5pm, and on Thursdays from 10am to 2pm.
Players in Penny for the Guy are competing for a GPO Memphis Turntable 4-in-1 Music Centre with CD and FM Radio! This system sounds great, and will not only play vinyl records, it'll convert them to disc or MP3 for playing anywhere.
You must be a Tidy Bingo member to take part in Penny for the Guy this November. So sign up now to pick up a welcome package that includes a 200% bonus on first deposits over £10, free bingo and more.